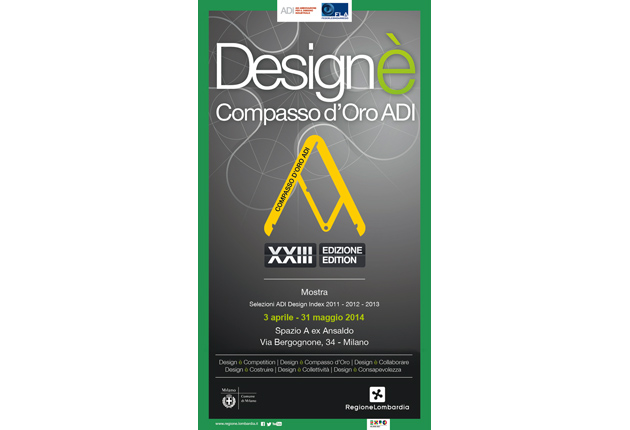 03 Apr

Designé Compasso d'Oro ADI
Officina Creativa ex Ansaldo, Milan
3 april 2014 – 31 may 2014
Olivari among the companies on display from April the 3rd in the group display organized at the Creative Workshop ex-Ansaldo in Milan by ADI, the Industrial Design Association.
In 2011, the Permanent Observatory of Design ADI, had chosen and included in the publication ADI Design Index, Olivari in the category of Research and Innovation Process. A first step towards the award of the Golden Compass Award which this year reaches XXIII edition.
Olivari was recognized the value of a company which has always been a hallmark of the research , for the continuous improvement of the product.
A search not only for style but also technology that makes an everyday object, taking us on an instinctive gesture, reaching always the best quality performance and durability.
Here is the ADI motivation:
``The current stage of the Olivari's development is based on the internationalization of the designers and attention to sustainability issues .
The company has recently established two treatments that exceed the most severe European environmental parameters : a ceramic coating, based on PVD ( physical vapor deposition ), and a process of Bio- based trivalent chrome plating process as an alternative to traditional performed with chromium trioxide ( hexavalent chromium ) .
Technological innovations joining the attention to the design, for its physical and cultural life , in full compliance with the company's history``.
It will be an application of the PVD technologies and trivalent chromium to be represented in the Creative Workshop ex-Ansaldo.
These innovative technologies allowing us to "stretch" the life of our product and reducing the environmental impact of the production , will be shown in their application on the model of Total, di Rodolfo Dordoni, already mentioned for the Compasso d ' Oro in 2007, archetype of a timeless handle.
The exhibition will be open at the Salone del Mobile's visitors until the end of May. And within June, the international jury will define the winners. Space Ex- Ansaldo – Via Bergognone, 34 – Milan